Assistance dogs are specially trained four-legged friends that help people with severe disabilities in everyday life and take on essential tasks. The animals make life easier for their two-legged partners. The lovely fur noses can cover several charges – you can find out here what these can be.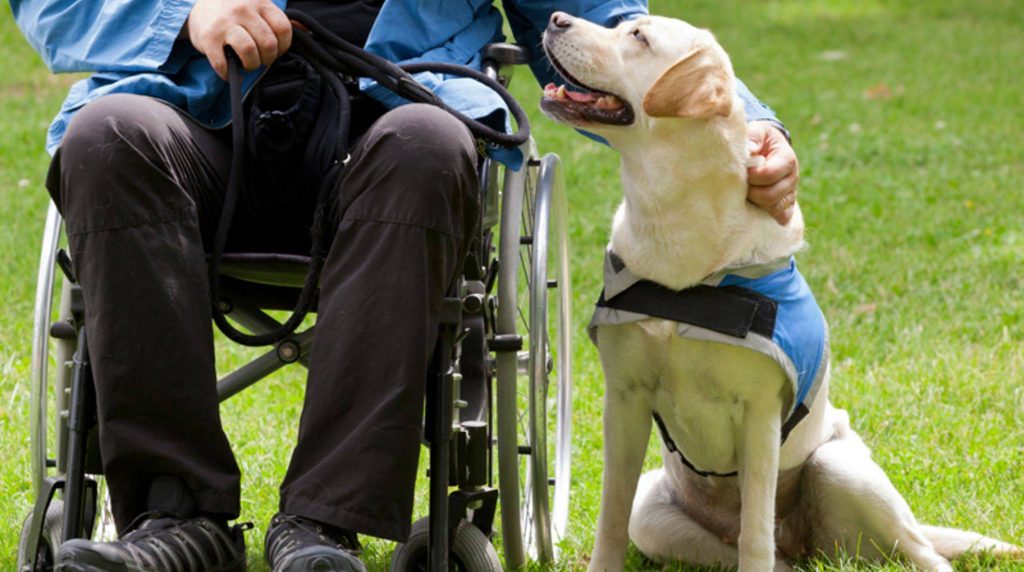 It is well known that dogs are great and can learn many skills. Assistance dogs impressively prove this. The highly trained four-legged friends, who should not be confused with therapy dogs, take on essential tasks in the everyday life of their severely disabled human friends.
Assistance dogs are trained for around two years.
For assistance dogs to be able to carry out their responsible tasks, they must undergo training lasting at least two years. Experienced dog trainers prepare the dogs to stand by their humans 24 hours a day. Every activity aims to make the dogs fit for at least three tasks that will later significantly reduce the difficulties of their partners with disabilities. Also, the great dogs have to meet specific standards in public; for example, they must not be distracted by fellow dogs and humans, must not snoop around, and must always stay by their partner's side—quite a lot to pay attention to.
Legal information about assistance dogs
Assistance dogs enjoy specific special rules compared to other dogs. The Ninth Book of the Social Code (SGB IX) contains regulations on the rehabilitation and participation of disabled people in Germany. There is also something about the helpful four-legged friends. For example, Paragraph 145 regulates the free carriage of a guide dog and a dog "carried by a severely disabled person whose ID card shows the authorization to take an accompanying person with them." The Federal Supply Act stipulates that a guide dog serves as an "assistance." Unfortunately, the quality standards for assistance dogs are not yet uniform nationwide. Still, they are regulated differently from state to state – but a draft law on the subject will be tabled soon (as of February 2017).
Tasks of assistance dogs: a selection
• Guide dogs for the blind: Assistance dogs help blind and visually impaired people by guiding them safely through everyday life. Stairs, light switches, obstacles, or even entrances and exits – the dogs show their people what is on the way and guide them safely through the traffic.
• Mobility Assistance Dogs: These strong assistance dogs help people with walking difficulties by supporting them. With the help of special mobility harnesses that the partner can hold on to, they guide their heart people through the environment.
• LPF assistance dogs: These four-legged friends help people who are in wheelchairs or who are dependent on prostheses and crutches. They pass objects from the floor or shelves, operate light switches, open and close doors, drawers, and help with dressing and undressing.
• Dogs for people with mental or psychiatric illnesses: These assistance dogs support people with cognitive or psychiatric conditions such as eating disorders, depression, borderline, or schizophrenia. They keep their partner's everyday life with specific tasks tailored to the respective disease, such as tactile signals that alert their owners to their behavior.
• Epilepsy, diabetic, or stroke alert dogs: Epilepsy alert dogs can warn their owners minutes before an epilepsy attack, allowing them to sit down to avoid falls. Diabetes alert dogs warn type 1 diabetics in good time of low or high blood sugar and can thus save lives. Stroke alert dogs can indicate that a stroke is imminent and are very important for people who have had a stroke or are very likely to have a stroke, as it allows timely help to be obtained. There are also assistance dogs that point out allergies and asthma attacks.
• Dementia assistance dogs: These great four-legged friends accompany people with dementia and give closeness, love, and warmth. In addition, inform the relatives of a person with dementia when they leave the house or otherwise put themselves in danger.
• Autism assistance dogs: These furry friends are sensitive support for people with autism. They calm you down when you are overstimulated, guide you safely through difficult situations such as large crowds, and provide security in everyday life.