Have you ever thought about what you're feeding your dog?
Dry and wet dog food has dominated the market for decades.
But the rise of high-grade cooked meals has given dog parents another option to consider for their pooch.
Companies use restaurant quality ingredients in recipes that are fine-tuned by veterinarian experts to ensure your dog gets a balanced and healthy diet.
Website: petplate.com
While most dog owners will have a fairly good idea of traditional dog food brands, dog food delivery is a new trend. But it can be difficult to decide which dog food delivery service is best for you.
Pet Plate are one of the leading companies offering dog parents home cooked dog meals, which are delivered right to your doorstep.
We've paid particular attention to the variety of recipes, the price point, the ability to deliver the meals in good condition and the customer reviews.
So let's get down to business and learn more about what Pet Plate can bring to your dog.
Pet Plate – The Basics
Pet Plate aim to deliver your dog "drool-worthy" meals.
Their website explains that they make freshly-cooked, vet-designed meals, which are made with real ingredients in a human-grade kitchen.
Pet Plate's marketing material adds that this dog food company only use USDA-certified meat to ensure your dog is getting the highest quality protein in their diet.
Combined with fresh produce and their proprietary supplement blend, Pet Plate's website promises to deliver a meal worthy of your fur baby.
While the marketing material on their website sounds encouraging, we prefer to examine the ingredients used and the customer testimonials to shape our review of Pet Plate.
How Pet Plate Works
The idea behind Pet Plate is pretty simple.
You're asked to fill out a brief questionnaire to help Pet Plate learn more about your dog.
Customers input information such as age, breed, weight and activity level to allow Pet Plate to customise your canine's meal.
Once you've submitted your dog's details, you will have the choice of recipe.
Let's look at the different meals Pet Plate have created to keep your dog's belly happy.
Ingredients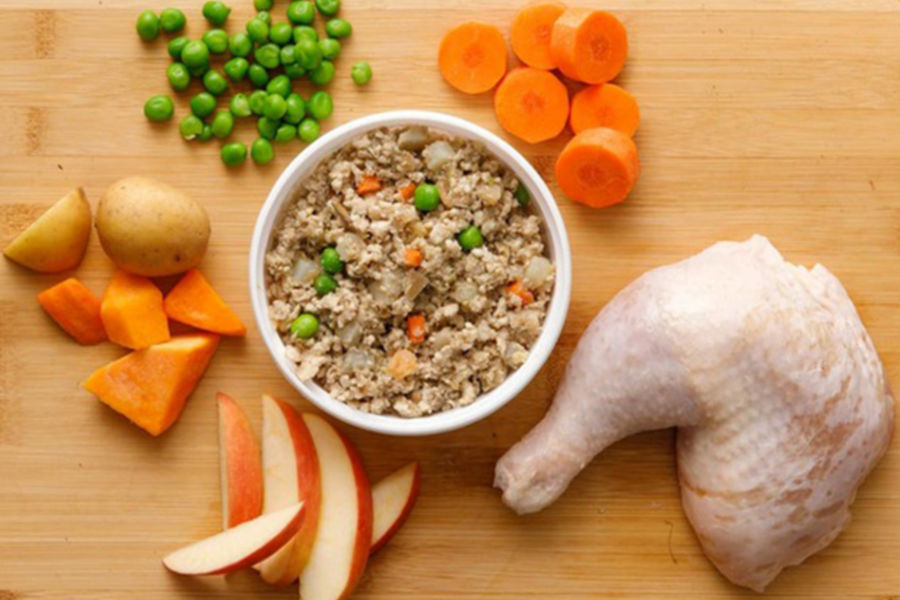 Pet Plate have four different recipe options, which allow for some variety.
Chompin' Chicken – Chicken, sweet potatoes, broccoli, chicken liver, apples, butternut squash, dicalcium phosphate, salmon oil, calcium carbonate, salt, potassium chloride, parsley, proprietary supplement blend (vitamin E, zinc oxide, ferrous fumarate, copper gluconate, manganese gluconate, potassium iodide, vitamin D3).
Tail Waggin' Turkey – Turkey, sweet potatoes, potatoes, turkey liver, apples, carrots, peas, pumpkin, salmon oil, dicalcium phosphate, salt, proprietary supplement blend (vitamin E, zinc oxide, ferrous fumarate, copper gluconate, manganese gluconate, sodium selenite, potassium iodide, vitamin D3).
Barkin' Beef – Beef, sweet potatoes, potatoes, beef liver, carrots, apples, green peas, pumpkin, dicalcium phosphate, safflower oil, salmon oil, calcium carbonate, salt, proprietary supplement blend (vitamin E, ferrous fumarate, zinc oxide, manganese gluconate, thiamine mononitrate, magnesium oxide, potassium iodide, sodium selenite, vitamin D3).
Lip Lickin' Lamb – Lamb, sweet potatoes, quinoa, lamb liver, apples, broccoli, dicalcium phosphate, potassium chloride, salt, salmon oil, calcium carbonate, parsley, proprietary supplement blend (vitamin E, choline bitartrate, zinc oxide, ferrous fumarate, sodium selenite, potassium iodide, vitamin D3).
The meals are created by veterinarian nutritionist Dr Renee Streeter.
Pet Plate's website lists a number of benefits to their meals, including improved digestion, healthier weight, healthier coat, more energy and clean dishes.
61% Off Your First Box!
Meal Preparation
While other companies we have reviewed tend to use packets to store individual meals, Pet Plate have opted to use containers with a resealable lid.
These containers are microwave friendly, which is a good feature for those with dogs who prefer their food to be lukewarm or hot.
The other benefit is that you can store any leftover food in the container, although Pet Plate seem pretty confident that your dog will leave an empty bowl.
Each container has a day's worth of food with serving instruction clearly listed.
You will receive a total of 28 meals in seven containers, which equates to two weeks of meals.
Price And Delivery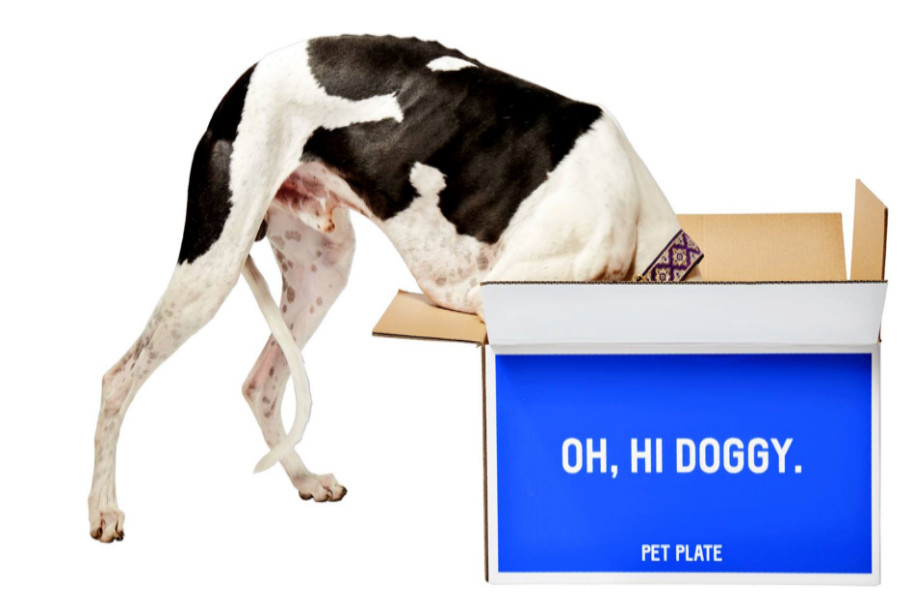 Pet Plate will deliver your meals in a recyclable box packed with insulation and ice to ensure your meals arrive in excellent condition.
The company will send out a replacement order if your meals arrive at room temperature.
We like how Pet Plate provide more information about pricing than some of their other competitors.
Pet Plate's website gives a clear breakdown of the pricing, which depends on your dog's size:
-Small Dogs: $2.50-$4.75
-Medium Dogs: $6-$8
-Large Dogs: $9-$13
-Extra large Dogs: $16-$19
While some other dog food delivery companies allow customers to customise the frequency of deliveries, Pet Plate send out the meals every two weeks.
However, Pet Plate do allow customers to pause, cancel, or skip a delivery at any time before their weekly 23:00 (eastern time) cutoff.
What Are Customers Saying?
We were unable to find reviews of Pet Plate on an independent website such as Trustpilot. However, Pet Plate have a review section on their site. Thy get an average of 4.69 based upon 256 reviews.
Kate discussed the benefit of Pet Plate's meals for her French Bulldogs.
61% Off Your First Box!
Any Negatives?
Pet Plate don't give dog owners the chance to list any potential allergies in their initial questionnaire, although you do have four recipes to select from.
Like all dog food delivery companies, Pet Plate provide a premium service so you should anticipate paying more than you would for traditional store-bought dog food.
Is This The Best Dog Food Delivery Service?
Pet Plate are a good option for dog parents, and they make it onto our page of the best companies out there in this category.
They don't use pre-portioned pouches which is something we really like in terms of convenience.
You can see our updated dog food delivery guide via the link below.
Anything Else To Consider?
We always recommend having a discussion with your dog's veterinarian before transitioning your pet to a different meal.
While Pet Plate do provide instructions in your first delivery on how to do a smooth transition, there is no substitute for talking to your vet to make sure you are prepared for every eventuality.
Pet Plate do offer an interesting piece of advice on their website for dog owners. They suggest cleaning your dog's bowl at least once a day to make sure there's no bacteria in there that could make your pup sick.
Pet Plate Conclusion – Our Final Thoughts
So we have reached the end of our Pet Plate review.
There are a lot of things to like about the service Pet Plate provide. They've got good recipe variety to keep picky eaters satisfied.
Pet Plate don't use pre-portioned packaging, which makes feeding your dog seamless.
Their dog food delivery service can be expensive so you'll need to make sure you can find the room in your budget for their home-cooked meals.
61% Off Your First Box!